Designer Deana Duffek worked with HGTV producers and an on-air designer, as well as architect Anders Lasater, to usher this Arch Beach Heights home back to the future.
By Justine Amodeo | Photos:Ryan Garvin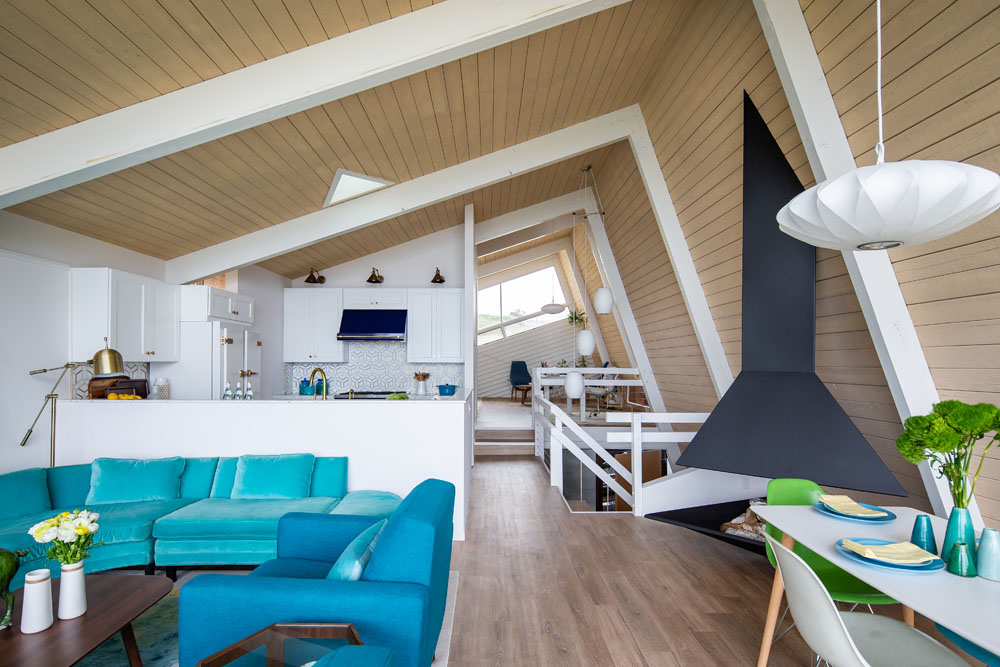 When Greg and Liz Jones inherited the "Skyhill House," an Arch Beach Heights home designed by architect J. Lamont Langworthy and owned by Greg's father, Gordon, they were not sure whether to sell it, fix it up to rent, or make it their own. After consulting with Laguna Beach interior designer Deana Duffek, they decided to make the midcentury modern house—left untouched after being purchased nearly 60 years ago, including its original Herman Miller Nelson saucer lights, shag carpet and dark wood—their forever home.
Then one of Duffek's producer friends mentioned the HGTV show "Frozen in Time," a program that overhauls homes stuck in a design time warp. In each episode, the on-air designer, Dan Vickery, brings the structure up to date, while Maureen McCormick, the show's celebrity host, sources decade-specific pieces that refresh the design while maintaining the style of its original era. When McCormick first visited the house in the HGTV segment, she said: "I feel like I'm back in The Brady Bunch house."
Indeed. Gordon Jones, who was director of engineering and planning for the Irvine Co., was a world traveler who collected artifacts for decades. "But he had done nothing to update the house," says Duffek, which is perched in the hills of Laguna overlooking the Pacific. "The original shag carpets and dark wood was still there. I met with [the HGTV] producers about next steps and we put a deal together. I worked with Dan Vickery to stay true to the modernist architecture of the house. It has funky lines, and while Greg loves midcentury modern, his wife, Liz, wanted more of a beach vibe, as well as incorporating some of her Southern roots. The design story became 'a little bit country and a little bit rock 'n' roll.' "
The HGTV project started in January of 2020 and the show is currently airing now. "We opted to maintain the clean lines of the original architecture and accentuate the midcentury vibe with a modern approach to a light and bright beach house," Duffek says. "With so many angles and unique architectural features, we chose finish selections that complemented the renowned architect's noted style."
One of the highlights of the design project was a piece of art Vickery designed from reclaimed dark walnut wood from the kitchen cabinets in the old house, since the wood had sentimental value for Gordon. The piece is a topographic wooden map of Laguna Beach including a notated spot at West Street beach where Gordon's ashes are in the ocean. In addition, the original Herman Miller saucer lights, which were no longer in good shape, were replaced by new ones after Greg expressed his desire to honor his father by keeping the lights.
New interiors, as well as a new kitchen moved to the front of the house to expose it to ocean views, a relocated fireplace and a new bathroom where the old kitchen was, were all completed for the show. Duffek then brought in Laguna Beach architect Anders Lasater to take off from where the HGTV fix-up ended, including a significant addition to the house, a new facade, stairwell and deck.
Langworthy, the original architect of the house, was known for bringing in natural materials and combining indoor and outdoor space. So, the updates, according to Duffek, needed to reflect the original design intention, "yet be modernized in a way that will capture both Liz and Greg's personal style. We wanted to maintain the clean lines, capture more light, clean up outdated materials and make this house function for their family to create generations of new memories."