Symphony, a Brion Jeannette-designed, single-family residence in Monarch Beach, will be on the market for $100 million by 2023.
By Jared Hodes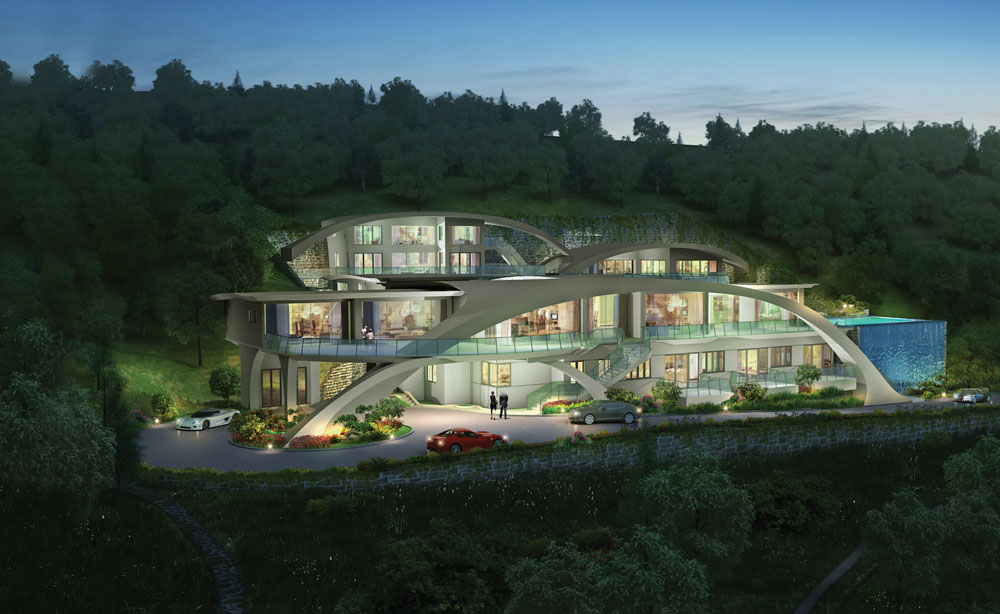 Johnney Zhang, the Chinese-born developer, entrepreneur, philanthropist and CEO of the Diamond Bar-based Primior, a real estate development and investment firm, started developing custom and commercial properties in 2016. "Every project you do is your baby," says Zhang, and his latest, a close to 16,000-square-foot main house built on two acres with 14 bedrooms, 19 bathrooms, hiking trails and private beach access through Waldorf Astoria Monarch Beach Resort & Club in Dana Point, is scheduled to be birthed in 2023. The home, which started construction this year, comes with a 270-degree ocean view, over 14 acres of natural land reserve, a guest house and a garage for 20 cars.
In 2014, Zhang bought the hillside property out of bankruptcy after the previous owner spent millions of dollars over a decade and failed to get the development approved by the California Coastal Commission. Zhang spent six years working with government offices and the public and private sector before getting it approved.
Utilizing the ancient Chinese art of feng shui, the practice of using energy forces to harmonize individuals with their surrounding natural environment, Zhang says the single-family residence was designed "to promote health, luck and happinesswith a location that lays against a mountain and faces an ocean" on a large private preserve of land.
Unhappy with the previous design, Zhang hired Newport Beach architect Brion Jeannette, who says he named the project Symphony because "this free-spirited home is like an elaborate musical composition blending all elements to create a beautiful living sonata; the environment, sun, wind, feng shui and the daily living harmony of the family [who will inhabit it.]"
"I fell in love with the elliptical design," Zhang says. "I had never seen anything like this."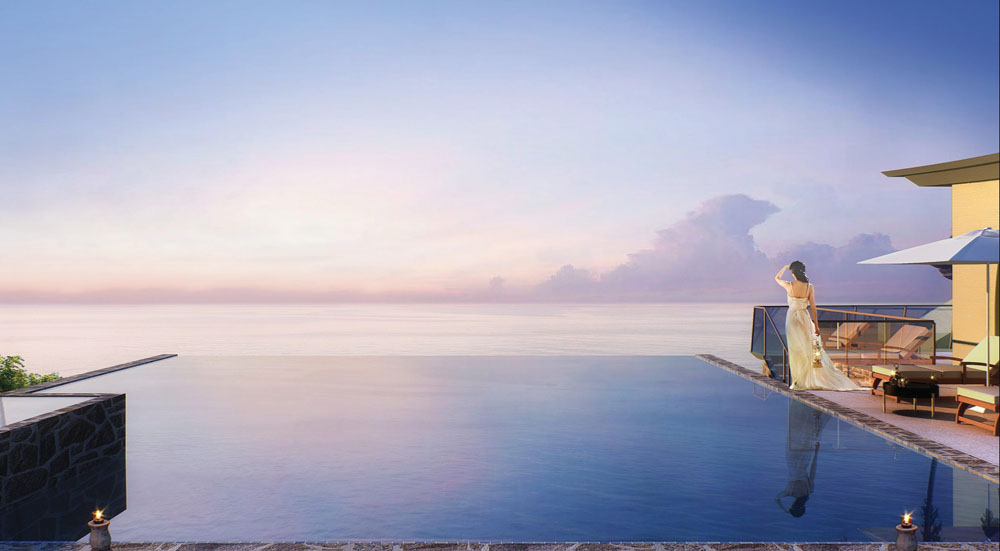 Architect Brion Jeannette on the Creation of Symphony
My inspiration was … "the flow and motion of the ocean and the simplicity of the expansive natural setting. I knew immediately that the structure must be an artful statement complementing the surrounding hills with an arching presence."
The design is … "free from traditional confinements with a seamless interface between all elements; visually, physically and spiritually."
The homeowners must be … "one with their environment, to feel nature as an integral part of their home."
My wish is … "that all members of the design and construction team would elevate the final composition by coming together in harmony—a great composition requires many talented players to create . . . a notable Symphony."
---
Zhang also hired revered Los Angeles designer James Magni to do the modern interiors, with a large green onyx wall inside, flooring that mimics dancing waves, an Eastern and Western kitchen, a movie theater and an infinity pool that looks out to the ocean.
Situated on 14.7 acres of land, three structures are planned for the Symphony project: a 15,975-square-foot main house, 2,036-square-foot guest house and 1,370-square-foot recreation building.
"We are very excited about the beauty and functionality of this new luxury home," Zhang says. "The interplay between world-class design features, including floor-to-ceiling glass overlooking the Pacific Ocean, give rise to the concept of Symphony as its name. It will be a wonderful addition to the neighborhood, while offering a very special living experience for the owner with tremendous privacy that is hard to find in Orange County."
For more information on Primior and its real estate portfolio, visit primior.com.