Luxury Frontiers' new sumptuous encampment, Camp Sarika, introduces the African safari experience to the Utah desert with a design that effortlessly enfolds into the landscape.
By Justine Amodeo | Photos courtesy of Camp Sarika by Amangiri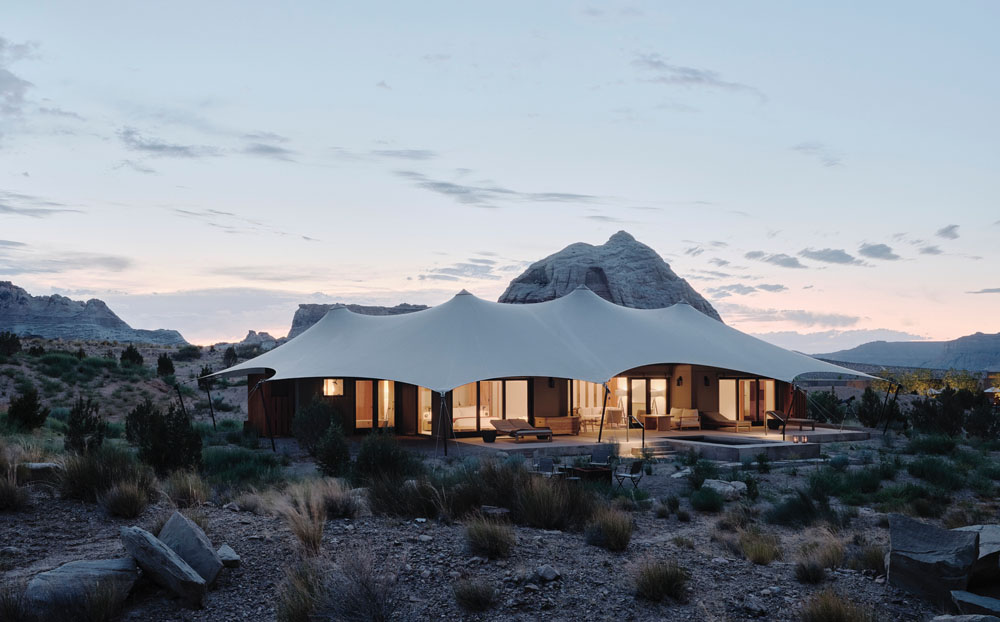 With travel on hold for the past year, those yearning to journey into nature are in luck. After months of working at home, Zoom meetings and technology dependency, getaways that involve connecting with the outdoors, without giving up the comforts of luxury travel, are high on the list.
Glamping (glamorous camping) is not a new concept, with tented camps in Africa starting the trend, and the U.S. following closely behind with elegant safari-style tents at The Resort at Paws Up in western Montana; the wine country's Safari West, which brought the Serengeti to Sonoma; Ventana's adults-only glampsite in Big Sur; the new Yonder Escalante near Bryce Canyon National Park, which has 32 different nostalgic accomodations including A-frame cabins and 10 vintage Airstreams all set on the grounds of a former drive-in movie theater; and for city dwellers, Los Angeles' first urban glamping experience at the Beverly Wilshire on the 2,140-square-foot terrace of its Veranda Suite, the only room in the hotel to reside on its own floor.
But Camp Sarika by Amangiri (the Sanskrit name for "open space" and "sky") has raised the bar even further on the luxury camping experience. In July 2020, the first-ever, North American, all-weather, year-round camp opened its flaps for up to 30 guests in 10 tented pavilions amidst 600 acres in the Utah desert, with full access to nearby sister resort Amangiri.
As with all of its projects, Luxury Frontiers' concept is driven by contextual design, evident in the effortless enfolding of the architecture into the landscape. The tented pavilions bow toward monumental sandstone formations and welcome guests inside with the soft intimacy of a natural canvas tent, designed to withstand the potentially harsh environmental elements of the site, such as temperatures varying from 20 to 105 F.
Thoughtfully positioned for unobstructed views of eastern mesas, rocky outcrops and technicolored western sunsets, guests can enjoy nature from their private tents and also have access to five national parks, numerous national monuments and the Navajo Nation reservation.
Evenly divided between one- and two-bedrooms, the 10 units are each equipped with a living area, dining area, wet and dry bar, as well as private bathrooms with a bathtub and indoor and outdoor showers. While the one-bedroom tents are approximately 1,900 square feet, two-bedroom tents offer over 2,800 square feet, both with an outer layer of recyclable canvas. Inside, camp-style custom walnut desks are outfitted with drawers, slung with leather side pouches for magazines and information packs, and completed with a bespoke campaign chair with a sophisticated leather finish. Etched timber headboards on king and twin beds reference the carved surrounding landscape and are finished with soft cushions suspended from leather straps. 
The outdoor areas of the tented units are accessed by Douglas fir sliding doors, which open to a private heated plunge pool, a deck with comfortable loungers, and a campfire complete with fireside furniture. The deck is shaded from the harsh desert sun by a highly engineered extended canvas overhang, allowing for a smooth integration between the indoor and outdoor spaces.
Camp Sarika's central pavilion was designed by New York-based Selldorf Architects, and the building seamlessly anchors to the environment. Paying homage to its sister property, Amangiri—a 30-minute hike or five-minute drive from the encampment—the main building's minimalist design of simple concrete blocks blends effortlessly into the rock. At the entrance, an art installation by acclaimed Asian American artist Maya Lin titled "Wahweap" welcomes guests with a glass-and-marble piece inspired by the course of the Colorado River as it flows from nearby Lake Powell to Lake Mead, while open fireplaces and earthy materials further connect the building to its natural surroundings. Leading through to an expansive outdoor terrace, the swimming pool is flanked by shaded daybeds and a heated whirlpool spa. The restaurant offers both indoor and outdoor seating, surrounded by fire pits that add to the atmosphere.
Luxury Frontiers is known for turning locations of remote beauty and wilderness into luxurious and experiential destinations, contextually designing and developing upmarket tented camps, treetop suites, and light-on-earth building concepts.
Nadia Ghillino, an interior and design architect for Luxury Frontiers, wrote in a blog post that "Interior Architecture," a discipline with one foot outside and one foot inside, ensures "the seamless integration, continuous spatial flow, and conceptual progression," when two design disciplines meet. "All too often, a well-considered architectural design is perceived as an external statement seamlessly stitched into its surroundings. Similarly, thoughtful interior design is looked upon as an internal expression of those same physical and cultural attributes," she wrote.
Camp Sarika challenges the invisible line drawn at the junction between architecture and interior design, and blurs the boundary, pulling the inside out and the outside in. "Architectural design does not stop at the front door," wrote Ghillino, "nor is interior design limited to any restriction imposed by architectural form. Instead, Interior Architecture ensures that both the architectural skin and interior design are deeply entwined."