In perfect sync with the climate, soil and wildlife, native plants conserve water and other important resources while sustaining the local ecology.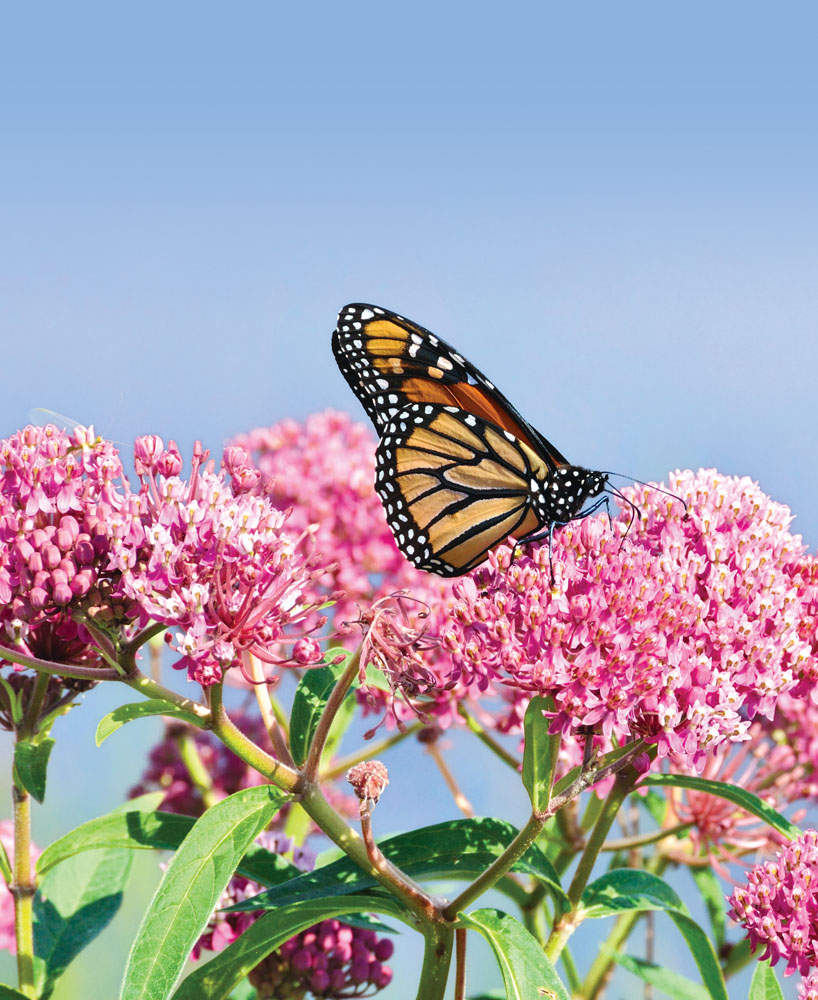 By Jessie Dax-Setkus
In the past, landscaping in Southern California may have been focused on pristine, green and luscious lawns complete with trees, flowers and pretty shrubs. But today, as climate and water concerns have moved to the forefront, landscapers are recommending more native gardens.
While drought-tolerant succulents and xeriscapes are popular ways to save water, native gardens use plants indigenous to the local ecosystem, creating landscapes that also help sustain native wildlife.
Latitude33 caught up with a few native landscaping specialists to find out about their favorite trends.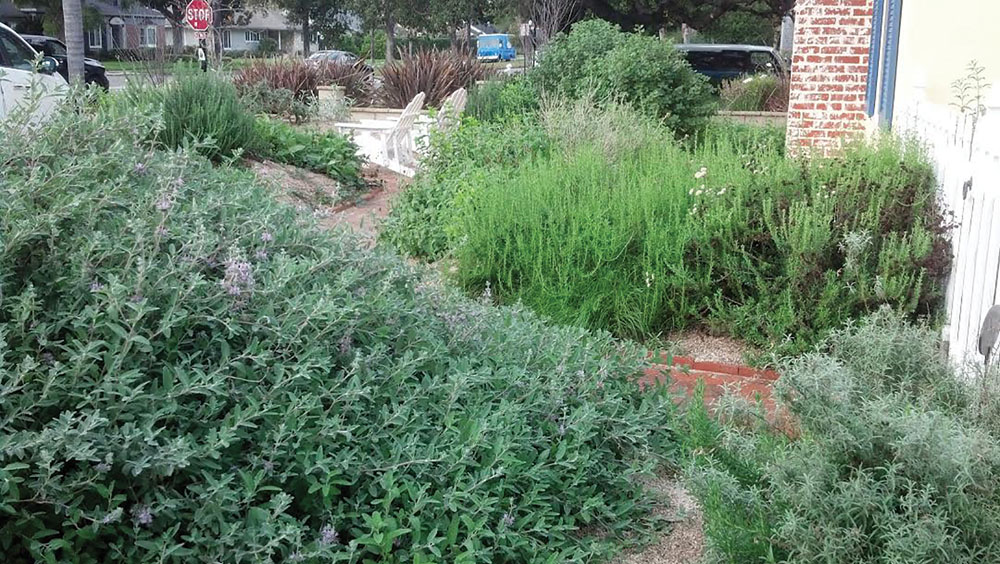 Say Goodbye to Mowing, Pruning and Fertilizing 
According to J. Mark Sugars, former president of the board of directors at Back to Natives Restoration—an environmental nonprofit that does habitat restoration, environmental education, landscape design using only native plants and landscape installation—converting to native landscaping allows you to enjoy a low-maintenance gardening experience without mowing, pruning or fertilizing. It also promotes biodiversity, as California alone is home to over 5,000 native plant species. The use of native plants also reduces water use, as the plants have adapted to the unique climate conditions. Furthermore, Sugars says native plants are not severely affected by insects, pests or diseases that would harm plants from a different ecosystem, and it provides a habitat for native creatures like hummingbirds and butterflies.
One of Sugars' favorite natives is Rhus integrifolia, also known as lemonade berry, a large evergreen shrub, or small tree. "It produces large numbers of small white or pink flowers, which are replaced by berries about the size of a jelly bean—green at first, then red as they ripen, covered with a waxy substance with a lemony taste," he says. "It's possible to use the lemonade berry's fruits to make a tart beverage, as Orange County's indigenous peoples did, but you may find the greatest value in this plant in the number of birds it will bring to your yard to feast on its bounty of berries."
Sugars also recommends planting native milkweed (not the non-native, which causes damage to the environment) wherever you can to help sustain the native Monarch butterfly population and prevent them from going extinct.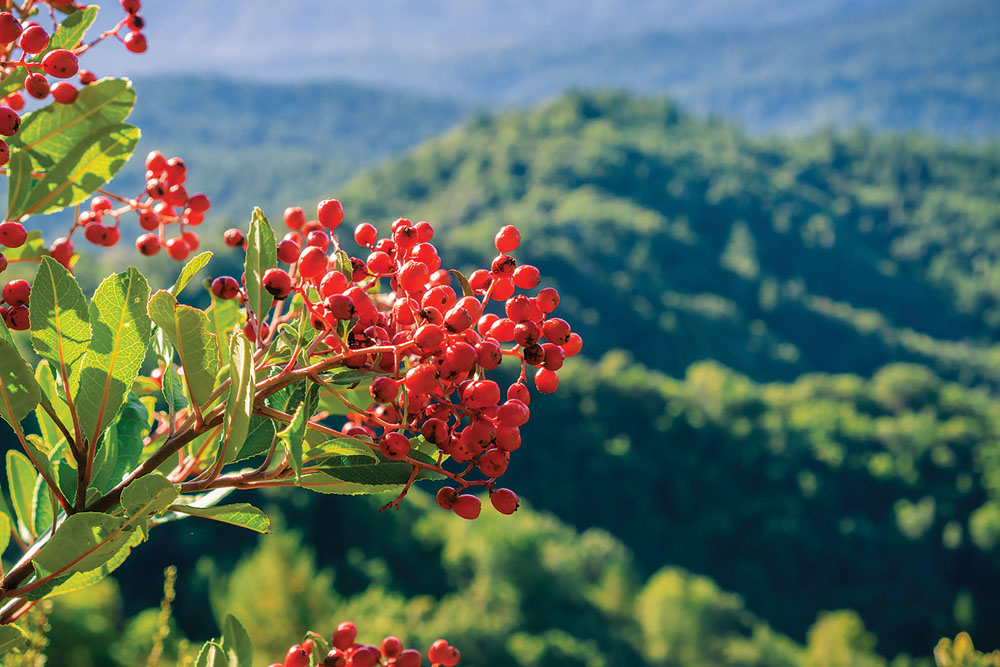 Creating Habitats for Wildlife
The use of native plants creates habitats for local wildlife; bugs and pollinators are especially impacted by the use of native plants, which allow them to thrive. According to Bluebird Canyon Farms owner Scott Tenney, native plants also require much less maintenance, as they have evolved to deal with the temperature profile on a seasonal basis, and they don't require as much water as their non-native counterparts.
"It's very important to use native plants in our landscapes because they tend to be much more supportive, much more resilient, and thrive better," Tenney says. "Even if a plant does well in our region, like Mediterranean varieties, they may have similar habits as native plants, but they won't attract the native fauna, like insects and birds."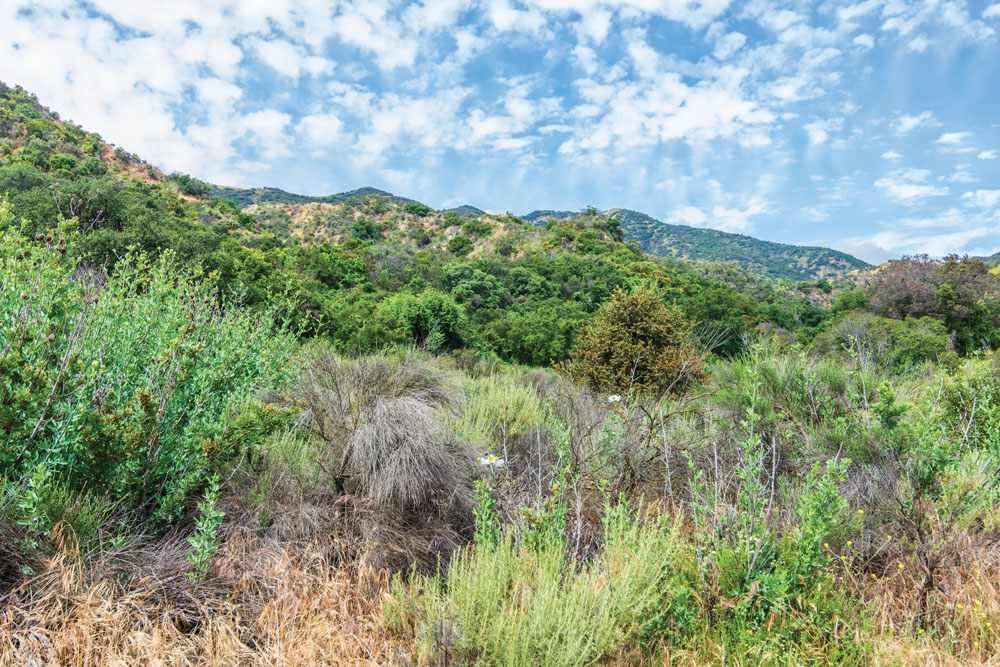 Tenney favors the use of toyon, or Heteromeles arbutifolia, an iconic species that pretty much coined the name Hollywoodland back in the Golden Age, as it is a type of holly-like plant that thrives in our region and supports local wildlife. He also supports the planting of native oak and sycamore trees in gardens. "And chaparral is king," he says. "Any plant from that group will survive and thrive in our region."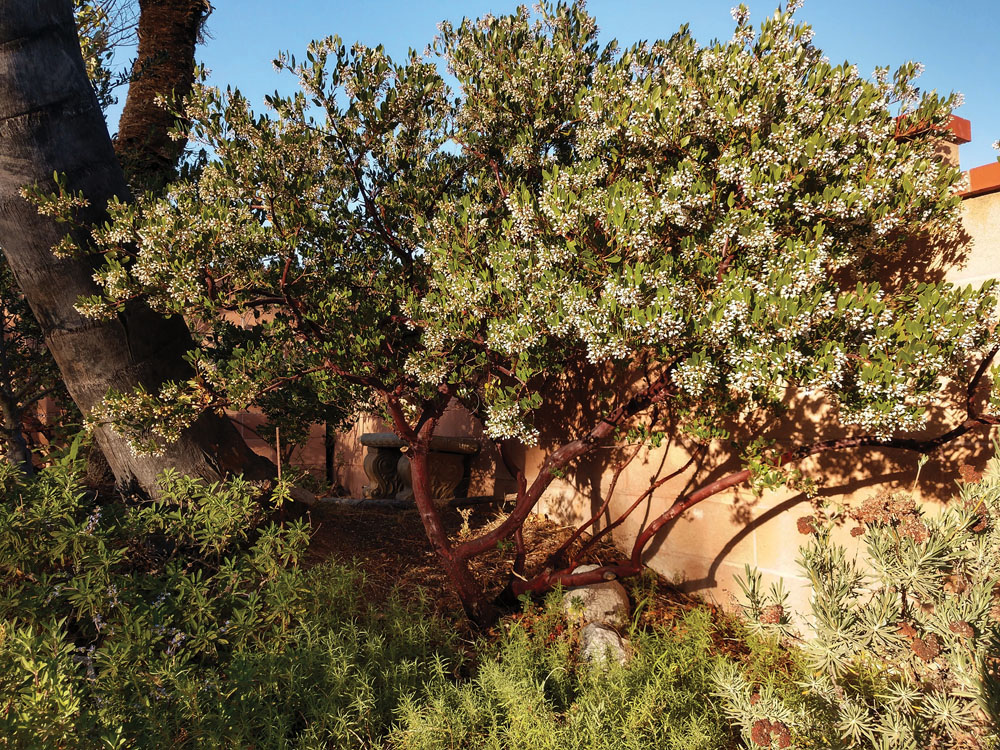 Creating Climbers, Beds and Jellies
Rob Moore of California Native Landscape Design in Brea says he favors Vitis californica, also called California wild grape, a vigorous climber that can create an accent wall of sorts. Its fruit is also a great snack for the native birds. Moore recommends planting it in narrow beds next to walls and fences or grouping it with rush and/or a riparian variety of California native bunchgrass to make a beautiful decor option.
"You can make jelly, juice and even wine from the fruit, which makes this Vitis a perfect addition to the California native garden," he says.
Moore also likes Arctostaphylos densiflora, aka manzanita. This plant exemplifies the beauty of the native chaparral ecosystem in California, Moore says, adding that "it is adaptive to soil types, microclimate conditions, pruning; it even tolerates occasional summer irrigation if done under proper conditions." Another great perk is that it is a food source for Monarch butterflies and hummingbirds native to the area. It has even been known for its use in teas for headaches and lotion for relief from poison oak.
Manzanita trees (top left and bottom left) are excellent food souces for butterflies and hummingbirds. Roger's red (top right), a hybrid California wild grape, and other wild grapes are great accents in a garden.